Sneakers Sansha MOTION zamsz
TABELA ROZMIARÓW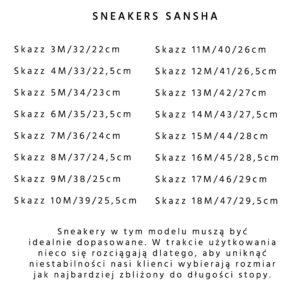 MOTION to jeden z kilku modeli sneakerów marki Sansha dostępnych w naszym sklepie.
Charakteryzuje się najwyższą podeszwą ze wszystkich dostępnych modeli. Podeszwa posiada amortyzację w pięcie.
Jest to model bardzo podobny do dobrze Wam znanego Tutto Nero, różniąca się jedynie delikatnie designem buta.
wysoki, miękki zapiętek oraz dobra amortyzacja pięty
dzielona podeszwa umożliwia wygodne stawanie na palcach oraz prezentację pracy stopy bez nadwyrężania mięśni
but jest zabudowany, sznurowany, dzięki czemu bardzo dobrze trzyma stopę
mocna konstrukcja zapewnia stabilność i wygodę
najczęściej wybierany do treningów zumby, fitnessu czy tańca ludowego. Szczególnie polecany do treningów technik, które wymagają dużej ilości podskoków.
wierzch obuwia: skóra naturalna zamszowa, specjalna przepuszczająca powietrze siatka
podeszwa: charakterystyczna dla Sanshy podeszwa nadająca odpowiedni poślizg.
*Sugerujemy wybór jak najbardziej dopasowanego rozmiaru.
Może spodoba się również…