Kozdra model 25D twilight
UWAGA: model ma zawyżoną rozmiarówkę. Prosimy wybierać rozmiar mniejszy niż standardowo lub kierować się tabelą rozmiarów.
TABELA ROZMIARÓW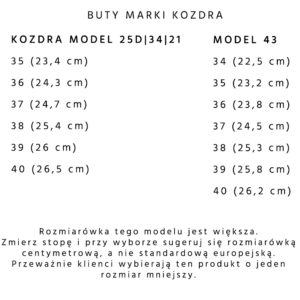 Model 25d to wygodne obuwie polskiej marki Kozdra z regulacją tęgości z przodu.
Idealny model dla osób z wąską lub szeroką stopą.
Podwójny pasek to dodatkowe zabezpieczenie zapobiegające wysuwaniu się stopy z buta.
występuje w trzech kolorach: twilight (jaśniejsza wersja cielistej satyny) / cielista satyna / czarna satyna

wyściółka: skóra naturalna

bardzo dobrze wyprofilowana podeszwa

obcas flare 7 cm

podeszwa ze skóry łosiówki (odpowiedni poślizg)



Sprawdź też: buty treningowe KOZDRA 21
Obserwuj nas na Instagramie
Informacje dodatkowe
| | |
| --- | --- |
| rozmiar | 33, 34, 35, 36, 37, 38, 39, 40, 41, 42 |
Może spodoba się również…