Buty ślubne? Tylko taneczne!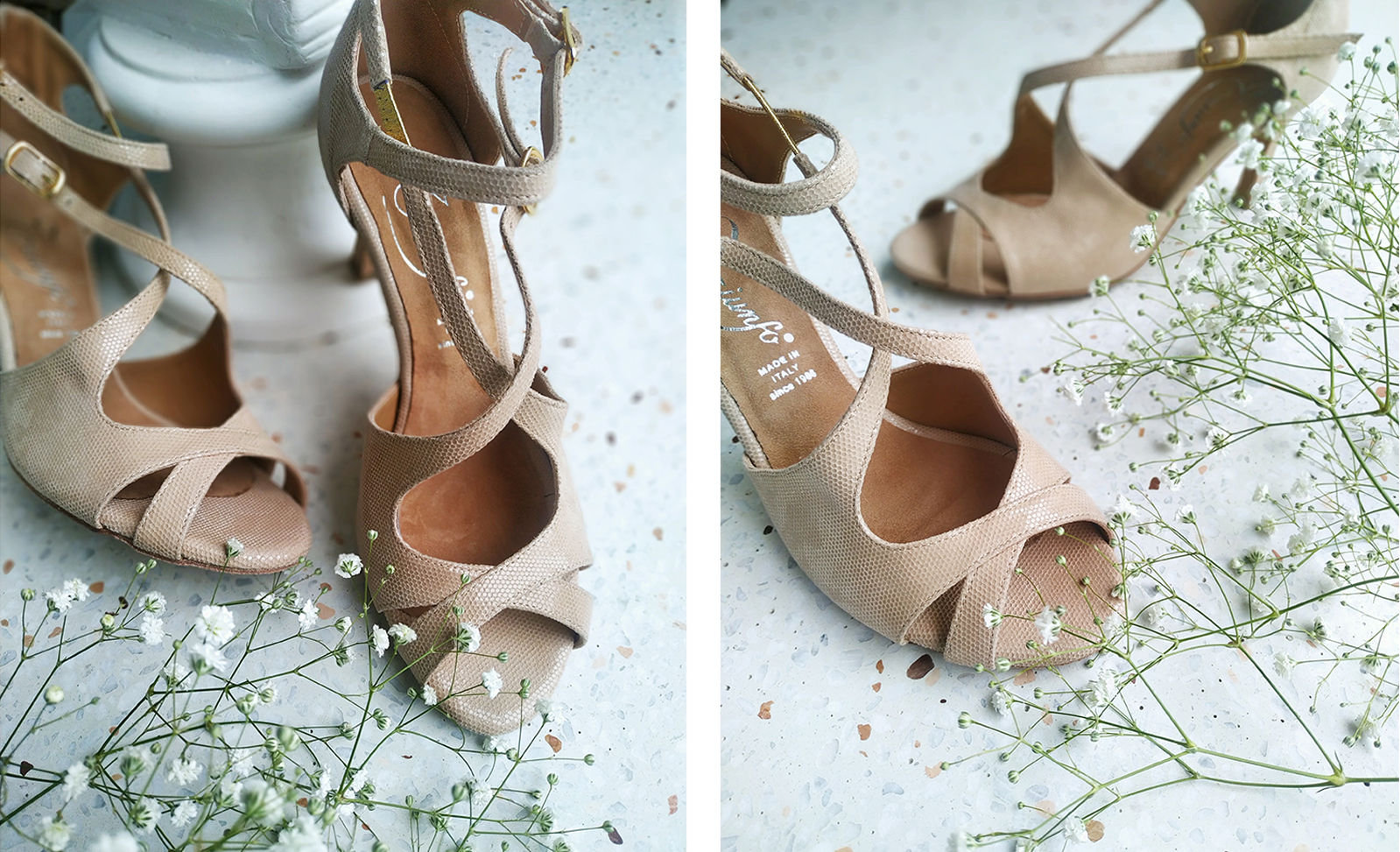 Potrzebujesz ładnych butów na swój ślub, w których przetańczysz całą noc?
TYLKO BUTY TANECZNE!
Miękka podeszwa z dodatkową poduszeczką pod śródstopiem pozwala na wygodne przetańczenie całego wieczoru czy nocy nawet na najwyższych obcasach
Odpowiednio dopasowane obuwie -> zobacz artykuł "jak dopasować buty taneczne" jest stabilne, stopa się nie przemieszcza w środku, dzięki czemu unikamy obtarć, odparzeń itp.
Nie czujesz sie pewnie na obcasach i szukasz tego najbardziej stabilnego? Z doświadczenia wiemy, że najlepiej sprawdza się obcas 6 lub 7 cm flare (szerszy, kieliszek). Stopa jest lekko uniesiona i ładnie sie prezentuje (szczególnie 7cm!) a stabilny szerszy obcas sprawia, że bez problemu przetańczysz wiele godzin wesela.
PIĘKNE PONADCZASOWE MODELE
Selekcjonujemy modele taneczne – będziemy szczere – szukamy modeli które nam się podobają, ale to działa! Muszą być dość klasyczne, ale z pazurem, charakterem. Takie też są nasze klientki! Nie wybieramy butów modnych w jednym sezonie, niepraktycznych. Jednocześnie odrzucamy te, które przetestowane na naszych Pannach Młodych oraz tancerkach, nie sprawdzają się.
NIE TYLKO NA JEDNĄ NOC!
Według nas nie warto inwestować w buty na jeden raz. Jesteśmy dziewczynami promującymi ruch zero waste (a raczej less waste, bo nigdy chyba nie dojdziemy do "zero"). Oprócz tego dzięki naszemu stylizacyjnemu doświadczeniu wiemy, że białe buty ostatnio są bardzo rzadko wybierane. Mamy zatem szpilki nude, złote, srebrne, modele takie, byście mogły je później wykorzystać na inne imprezy lub zajęcia taneczne. Żaden kolor nie pasuje do wszystkiego tak jak nude!
NASZE PORADY
Przyzwyczaj się do nowych butów! Buty taneczne są wygodne i nie powinny obcierać, jednak zawsze warto przed ważną imprezą pochodzić w nich trochę po domu, a nawet potańczyć. Jeśli nie ma się doświadczenia w chodzeniu na obcasach, najczęściej robi się to dość ciężko i sztywno, obciążając tył buta/obcas. Potrenuj, starając się przekładać ciężar ciała na przód buta, nie obciążając obcasów.
Jeśli masz dodatkowe pytanie, skontaktuj się z nami! Chętnie doradzimy zarówno w zakresie doboru butów jak i całej stylizacji. Mamy w tym spore doświadczenie!